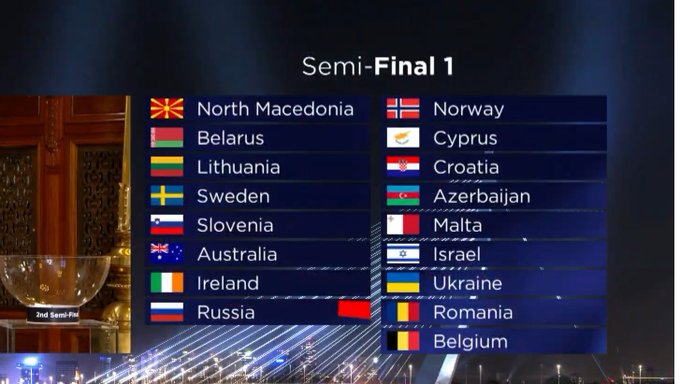 Adrian Kavanagh, 28th January 2020
Earlier this afternoon the semi final allocation draw for the 2020 Eurovision Song Contest took place in Rotterdam. What did this mean for Ireland? This post will tease out the draw in terms of what was good, not-so-good and bad about this in terms of shaping Ireland's chances of qualifying for this year's Final.
41 countries take part in this year's Eurovision Song Contest, as noted in the previous post. As six of these countries (Big 5/Hosts) automatically qualify for the final, 35 countries are left to fight it out for the remaining 20 spots in the Final across two semi finals that take place on the 12th and 14th of May – the top ten countries in both of these semi finals will qualify. It was decided that 17 countries will take part in Semi Final 1 (meaning a 59% chance of qualification, all things being equal) and 18 countries will take part in Semi Final 2 (meaning a 59% chance of qualification, all things being equal).
Ireland have been drawn to take perform in the First Half of Semi Final 1.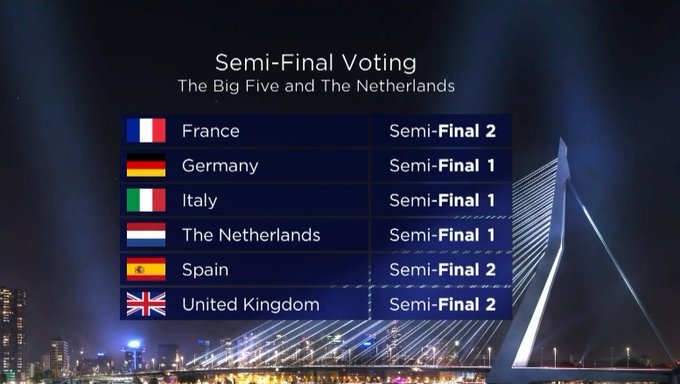 In terms of what semi finals the Big 5/Host countries are drawn to vote in, this is not especially good news for Ireland as the United Kingdom (the country that Ireland has won the most points from in recent decades) has been drawn to vote in Semi Final 2. It's not all bad news as the next best countries to get drawn to vote in Semi Final 1 from an Irish perspective would have been The Netherlands and Germany and these countries will vote in that semi final.
The fact that Ireland will perform in the first half of the show is probably even worse news from an Irish perspective. As previous posts on this site have shown, including this one, countries that perform earlier in the contest running order generally tend to be at a disadvantage to those countries who get to perform later in the contest running order. The worst position to get in the Final running order is No.2; however when it comes to semi finals the No.3 position in the running order is statistically the worst position to get based on vote/qualification patterns over the past twelve years. We do not know what actual position Ireland will get in the running order until March, but the chances of getting a "bad" running order position (based on a review of past voting statistics) are much higher than would have been the case if Ireland had been drawn to perform in the second half of the semi final. To make things worse from an Irish perspective, if we look at Ireland's qualification record from 2011 on, we can see that the only Irish acts that did qualify for the Final were those that performed near the end of the semi final running orders – Jedward (Last 2011, Last 2012), Ryan Dolan (Fourth Last, 2013) and Ryan O'Shaughnessy (Second Last, 2018).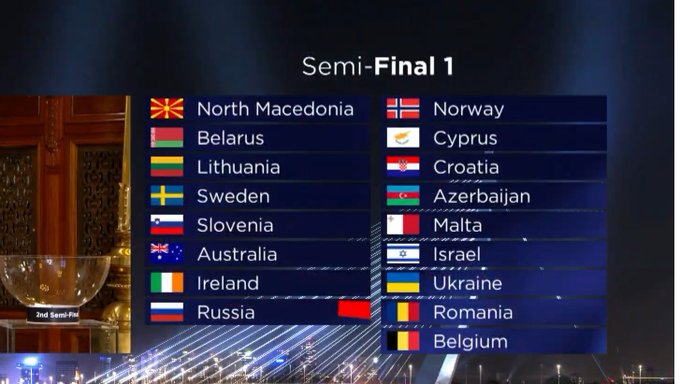 A number of the countries that have traditionally given higher than average numbers of points to Ireland will not be taking part/voting in Ireland's semi final, including the United Kingdom, Denmark, San Marino, Latvia, Finland and Estonia. These are six of the ten most likely countries (out of those taking part in the 2020 Eurovision Song Contest) to vote for an Irish act, based on past voting histories/televote tends over the past two decades. The other four countries in this group, which do take part (and do vote) in Semi Final 1, are Australia, Belgium, Malta and Lithuania. In fairness, other countries such as Norway, Sweden and The Netherlands would rank towards the upper end of the scale in terms of those countries that would be most likely to vote for Ireland at Eurovision, but it is fair to say that Ireland does not have too many friends (in terms of countries that are likely to vote for Ireland) in this semi final.
To make matters ever worse, this semi final includes a number of countries that have perfect, or close-to-perfect, semi final qualification records (based across all the semi finals that have taken place since the current semi final qualification system was introduced in 2004). Both Ukraine and Australia have yet to fail to qualify from a semi final contest, while Russia, Sweden and Azerbaijan have missed out on qualification on only one occasion across this period. Other countries, such as Romania and Norway, also have very good qualification records. Other countries that are thrown into the mix is a recent contest winner (Israel) – also a country that has been in every Final since 2015, a country that finished second in 2018 and which has qualified for the last five Finals (Cyprus) and a country that attained its best ever Eurovision result last year (North Macedonia), as well as a country that attained two Top 5 finishes in the last four years Belgium.
For what it's worth, the draw for Eurovision Semi Final 2 looks like this: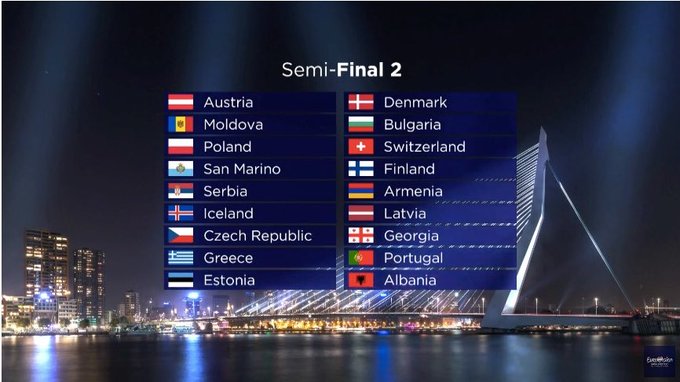 Conclusion! It's fair to say that from the get go, all things being equal, Ireland is facing an uphill struggle to qualify for this year's Eurovision Song Contest. But, of course, a very good song, performer and staging can turn things around quite dramatically. Ultimately, if the Irish act is strong enough to get out of this "group of death" this year – and we have got out of similar "groups of death" in 2010 and 2018 – then they could be in a position to do very well in the Final.